Buy the Book!
Reserve, order or ask a question.
 
40 Years from the Brink of Extinction
America's Bald Eagle
by John D. Chaney
photography by John D. Chaney
 
Bald eagles get a warm salute in 40 Years from the Brink of Extinction, a handsome new photography book by John D. Chaney that collects 40 years of his work documenting America's favorite bird. This large-format hardcover features 63 beautiful photographs of eagles in their natural habitat, interspersed with interesting facts about our national symbol. Chaney's photographs capture eagles' majesty in flight, on the hunt, raising their chicks, and interacting with others. Bird lovers, nature enthusiasts, and true-blue patriots will be proud to display this volume on their coffee tables.     $39.95
56 Counties
A Montana Journey
by Russell Rowland
A native Montanan and an applauded novelist (In Open Spaces, High and Inside), Rowland spent the better part of a year studying and traveling around his beloved home state, from the mines of Butte to the pine forests of the Northwest, from the stark, wind-scrubbed badlands of the East to the tourist-driven economies of the West. Along the way, he considered our state's essential character, where we came from, and, most of all, what we might be in the process of becoming.     $22.95  
Adventure Tales of Montana's Last Frontier
The Wild West's last stand took place in Montana's Milk River Country, the wind-swept "Hi-Line" along the Canadian border. In Adventures Tales of Montana's Last Frontier, Montana historian Gary Wilson vividly chronicles the area's panoramic past that featured fur traders, Native Americans, soldiers, pioneering women, itinerant preachers, cattle barons, and outlaws.     $14.95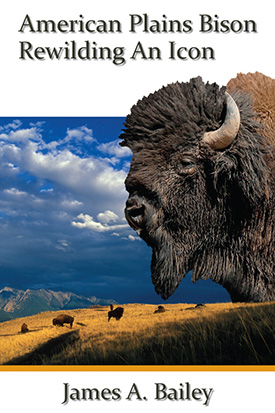 American Plains Bison
Rewilding an Icon
by James A. Bailey
published by James A. Bailey
For many, plains bison are the embodiment of wildness and the pre-settlement American West. After millennia of evolution through natural selection, however, the species was nearly wiped out, only to be subjected to domestication for more than 100 years. Domestication alters the bison genome through inbreeding, crossing with cattle genes, shrinking genetic diversity and artificial selection. These forces continue to replace natural selection and valued wild characteristics of bison. Does the future hold only continued domestication for plains bison in the United States? With a view from over 50 years in the profession of wildlife biology, Bailey probes this and other questions inThe American Plains Bison: Rewilding an Icon. The book presents his original and lively analysis of 44 conservation bison herds on native range in the United States. He focuses upon the gray area between wildness and domestication and sheds light on domesticating practices of Native American and government agencies, as well as commercial bison producers. He challenges the profession of wildlife management to expand its views on manipulating wildlife populations. For bison, Bailey makes a strong case for creating large reserves to restore wild bison and their natural contributions to our grassland ecosystems.     $19.95
AS I REMEMBER
Vol. I & Vol. II
Stories of Eastern Montana's Early Settlers
As told to Mrs. Morris (Gladys) Kauffman
In 1964, during Montana's territorial centennial celebration, Mrs. Kauffman noticed the dwindling numbers of the pioneers who had settled Eastern Montana. Someone really should record their stories!
Although she had 9 children, the youngest still a baby, she set out to interview as many settlers as possible. Over the next 10 years she recorded the stories of over 160 pioneers and published those stories in the local newspaper, the Ranger Review.     vol. 1 $14.95 and vol. 2 $15.00
Bad Boys of the Black Hills
...And Some Wild Women, Too
The lively romp details some of the Wild West's most engaging stories, specifically in the Black Hills and Deadwood, home to prostitutes and poets, desperados and dancehall girls, fortune tellers and fugitives. Readers will meet a host of rowdies ranging from madams to stagecoach robbers, from tall-tale tellers to killers.     $14.95
Barbed Wire
The Fence That Changed the West
by Joanne Liu
Before the mid-1800s, much of the American West was a vast expanse of open plains. Native tribes followed buffalo herds unimpeded for hundreds of miles, cowboys ran cattle wherever water and grass led them, and the cattleman's Law of the Open Range ruled. All this changed when settlers pouring into the West under the Homestead Act of 1862 brought with them the Eastern farmer's concept of fencing in farms. With the invention and mass production of barbed wire in the 1870s, it soon became possible for homesteaders to fence off millions of acres of what was once open range. But barbed wire threatened the livelihood of the cattlemen who depended on unfenced grasslands, and a clash of cultures was inevitable.
In a style that will capture the interest of adult and teen readers, Barbed Wire: The Fence That Changed the West reveals the surprisingly critical role the invention of barbed wire played in the settling of America. From the legal battles over barbed wire patents to the brutal fencing wars that erupted on the frontier and the ultimate end of the open range, author Joanne Liu tells the fascinating story of how a simple twist of wire transformed a country's landscape and ushered in a new way of life.     $14.00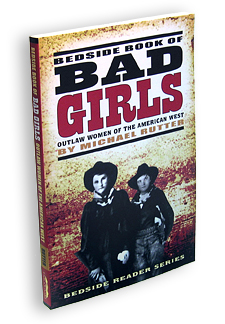 Bedside Book of Bad Girls
Outlaw Women of the American West
by Michael Rutter
Much has been written about the outlaws of the American West, from jesse James to Butch Cassidy. But what about the western women who chose to pick up a Colt and take on the law?
Autor and historian Michael Rutter profiles twenty-one of these pistol-packin' women. Meet Kate Bender, who brutally murdered as many as thirty people in Kansus, including children, and burried them in her family's orchard; Laura Bullion, the only woman to participate in a Wild Bunch train robbery; and Madam Vestal, a one-time Confederate spy who organized the famous Deadwood stagecoach robberies. Witness the execution of Elizabeth Potts and Ellen Watson, the First women hanged in Nevada and Wyoming.     $14.95  
Bleed, Blister, and Purge
A History of Medicine on the American Frontier
by Volney Steele, M.D.
Lewis and Clark treated fevers with pills caled "thunderclappers," a strong laxative. Mining camp "soiled doves" may have used opium as birth control. Pioneers sometimes applied fresh cow manure to snakebites. And nineteenth-century doctors recommended soaking in natural hot springs for alcohol and drug addiction. These are just a few of the remedies - some effective, some not - described in Bleed, Blister, and Purge. Yet this book is much more than a summary of    peculiar medical practices of the past. Dr. Volney Steele wrote Bleed, Blister, and Purge "to shed light on and celebrate the dedication and humanitarianism of those many physicians, nurses, shamans, and people of sound practical sense who saw their patients - often friends and family - through the adversities that bedeviled them."     $18.00
Blind Tom 
The Horse Who Helped Build the Great Railroad
by Shirley Raye Redmond
Learn all about the building of the world's first transcontinental railroad through the true story of Blind Tom, a sightless workhorse who contributed in his own way to this important part of American history.
Tom was blind, but because of his strength and spirit, he was chosen to be the lead horse for the Union Pacific line. Stalwartly pulling his heavy load through rain, mud, and snow, he was the pride of the UP. He even became a minor celebrity as reporters picked up the story of the intrepid blind horse. With its engaging narrative and striking illustrations, Blind Tom will delight animal lovers of all ages.     $10.00
Blue Lines:
A Fishing Life
by Tom Reed
Blue Lines is about fishing small streams in the Rocky Mountain West. It follows one man's life from Colorado childhood streams to Montana high country creeks. Blue Lines is filled with superbly told fishing stories, and it shows us fishing as a healer, fishing as common ground between adversaries, and fishing as a way to escape the travails of the mundane.     $12.95
Bold Women in Montana History
Author: Beth Judy
From the Blackfeet warrior Running Eagle to the stereotype-smashing librarian Alma Jacobs, the eleven women portrayed in this engaging book were indeed bold—breaking down barriers of sexism, racism, and political opposition to emerge as heroines of their time. The sixth in this Mountain Press's state-by-state series for teen readers, Bold Women in Montana History reveals the feminine side of the Treasure State's storied past. 
Within these pages are stories of fearless femmes who dared to dream and resolved to take action. Among them we meet Annie Morgan, a Philipsburg homesteader whose mysterious life is only now coming to light; the bronc-riding Greenough sisters, Alice and Marge, who became rodeo stars during the sport's heyday; and Elouise Cobell, champion of Native American rights.
Perfect for school or home, this collection of short but informative biographies is both a valuable resource and an entertaining read. For readers young and old, Bold Women in Montana History proves what women can accomplish when they dare to be bold.     $14.00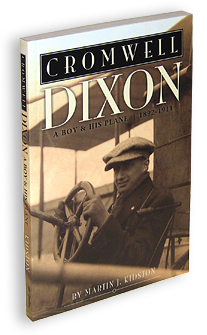 Cromwell Dixon
A Boy & His Plane
Boy Genius, Inventor, Dirigible Pilot, and Aviator: Cromwell Dixon
For nearly a century, the accomplishments of a bold and audacious young aviator named Cromwell Dixon have been lost to history. But with the approaching 100th anniversary of his record-setting flight in 2011—and his violent and untimely death—the life story of this remarkable prodigy is finally emerging. 
Hailed as a mechanical genius in 1907 at the age of 13, teenage inventor Cromwell Dixon built and flew airships in Ohio before signing on with the famous Glenn Curtiss in New York and flying the world's first airplanes. At the time, he was youngest licensed pilot in the nation.
At age 19, Dixon became the first pilot in history to fly over the Continental Divide. He made the landmark flight over the Rocky Mountains near Helena, Montana, in 1911, a triumph that made news around the country. Just two days later, while performing an exhibition flight for the state fair in Spokane, Washington, a sudden and violent crash took young Dixon's life.
Like the tale of Icarus, Dixon's story is one of great daring, accomplishment, and tragedy.     $14.95  
Buffalo Country: America's National Bison Range
by Donald M Jones 

(Photographer)
Absolutely gorgeous color photographs by a premier wildlife photographer make this a very special book about the National Bison Range in Montana, and the text about bison, Native Americans, and ecology make it a must-have book for anyone interested in bison and their incredible history on the continent.     $14.95
Camas & Sage
A Story of Bison Life on the Prairie
by Dorothy Hinshaw Patent
In Camas & Sage: A Story of Bison Life on the Prairie, kids are invited to explore and discover the northern plains in a truly unique way: through the eyes and ears of a bison calf. From Cama's first attempt to stand on wobbly legs, this tale of an adventure-filled first year will have young readers hooked. Full-color illustrations splash across the page, illuminating each of Cama's firsts, including encounters with rascally prairie dogs, a crackling and booming thunderstorm, and irritable bulls. Kids won't want to wait to turn the page to see what happens next!     $12.00
The Casebook of Sheriff Pete Benson
by John S. Fitzpatrick
Pete Benson was a big-city police detective. His job was intense, dangerous, and 24/7.
He loved it.
But he also had a loving wife and two young children he hardly saw.
So he made a choice.
Now Sheriff Pete Benson patrols Rhyolite County, Montana. His beat is bigger than some states, but it's beautiful country with tall mountains and broad valleys—and more cows than people.
Rodgersburg, the county seat, has fewer than three thousand people. That's where Benson and his family live, where he gets the daily gossip from the regulars at the Apex Bar, and where he knows most everyone and they know him.
Most people in Rhyolite County are good, honest, friendly folk—a bit quirky sometimes, but loveable. There's Bootsey Gorman, an octogenarian prospector still looking for the one big mine he can call his own. And Mandy Lynn Marks, the town beauty who leaves a trail of bruised hearts and broken marriages in her curvaceous wake. And Kay Best, the sheriff's indispensable right-hand "man" —when she isn't playing practical jokes on him.
Of course, even in paradise trouble sometimes comes calling. Fortunately, Sheriff Pete Benson is on the job. He loves it.
These are his stories.       $12.95
The Change
by Deanne Smith
There is an unknown predator in a tiny Montana town in 1920. Older women are disappearing in staggering numbers, fourteen so far. 
When Clara Terrel, a faith-filled prairie wife, learns the terrifying truth - that men are having their menopausal wives arrested, tried, and sentenced to the state insane asylum - she narrowly escapes the same fate. 
At the state capital, Clara fights to have the fourteen women released and to take down the powerful, ruthless men responsible for the injustice. Annie Hazelton, Clara's charismatic, progressive friend; Connor Sullivan, a passionate attorney; and Maxwell Heinz, an awkward yet powerful man in the capital, help Clara in her quest for justice. 
The four of them form a strong bond as they face danger, murder charges, and disbelief; and along the way, they uncover facets of themselves that have long lain dormant. 
Although a story of fiction, The Change has truth at its roots.     $13.00     
The Charcoal Forest
How Fire Helps Animals & Plants
by Beth A. Peluso
After a fire, you might think a burned area is as barren and lifeless as the moon. But take a closer look and you'll find that even before the last wisps of smoke have cleared, the newly burned forest is already teeming with life. Many plants and animals find fertile ground here to grow, eat, and have offspring; some species are dependent on fire and cannot thrive to reproduce without it. 
Unlike most books, which concentrate on the fire itself, The Charcoal Forest explores the new habitat created by the fire. Focusing on the Northern Rocky Mountains of the United States and Canada, the book describes twenty species of animals and plants that contribute to the reclamation and renewal of the charcoal forest. Why do some beetles fly toward a fire? Why will you almost never see a black-backed woodpecker outside of burned areas? How do fires help grow yummy treats like huckleberries and morel mushrooms? Kids and adults will delight in discovering the answers to these and other burning questions-and don't forget to find the black-backed woodpecker in every picture!     $12.00    
Charles M. Russell
Printed Rarities from Private Collections
by Larry Len Peterson
Charles M. Russel- cowboy, painter, sculptor, writer- was an advocate of the people, animals, landscapes, and ideals of the West. Perhaps most importantly, he was an archivist. Through his detailed and honest paintings, sculptures, line drawings, and prose, he memorialized the Western way of life as it was at the turn of the twentieth century. Far from romanticizing the West, Russell's art captured the harsh and beautiful reality of the everyday word he lived in.     $25.00
CHARLIE RUSSELL
The Cowboy Years
Second Edition
This book contains the same information as the first edition, plus more. Charlie Russell's colorful eleven year cowboy career is spiced with adventures with his horses and friends. This book chronicles the years of fun and adventure that Russell drew upon for his authentic western art. Early examples of Charlie's art and many vintage photographs illustrate the book. 
Charlie Russell: The Cowboy Years is not an art book, research paper, or novel, and its definitely not fiction. This engaging narrative chronicles the eleven years Charles M. Russell spent on the open range of Montana working as a cowboy, from 1882 until 1893. With Charlie cast as the centerpiece--which he often was during this period--with a supporting cast of friends and horses, this colorful history is filled with adventure. These years as a working cowboy were a formative time for this talented and complex artist, a man of integrity who had a great sense of humor, both childlike and raucous.
Saddle up, and ride along with Charlie and his friends. Tighten your cinch, adjust your stampede string, keep a leg on each side, and expect to have a good time!     $20.00   
Cold Hands
by Kathryn R. Stahl
Adventure and romance on the Upper Missouri River of Montana     $12.99
Concise History of Fly Fishing, A
by Glenn Law
Fishing is among the most ancient and popular pastimes throughout the world. In this brief but detailed history, Glenn Law examines the development of fly fishing, from the earliest Egyptian copper hooks dating to 2600 B.C. and the first recordings of catch-and-release fishing in China's Zhou dynasty, to the most modern innovations in tackle and the rise of fly-fishing personalities.
Law discusses the landmarks in the tradition of fly fishing, beginning with Dame Juliana Berner's A Treatyse of Fysshynge wyth an Angle, and Izaak Walton and Charles Cotton's The Compleat Angler, which stands uncontested as the most-published book in the Western world, with the exception of the Bible. He then traces the English fly-fishing traditions and innovations that flourished or perished in North America, and how this combination of traditions and pragmatism became the sport we enjoy today.     $19.95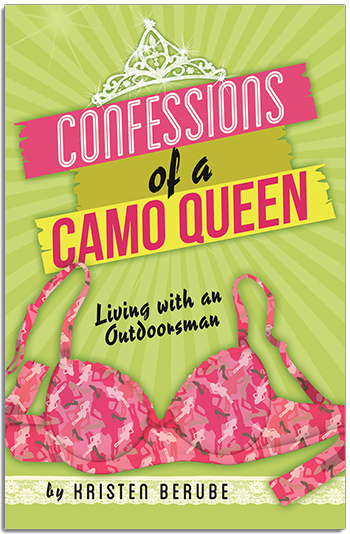 Confessions of a Camo Queen
Living with an Outdoorsman
Does your man's interior design sense involve dead animals? Is your fridge stocked with styrofoam cups of earthworms, deer glands in plastic sandwich bags, and whole dead birds? Does he keep a can of elk estrus spray next to his deodorant? Congratulations, you're in love with an outdoorsman! You are indeed a true camo queen!
Montana wife and mom Kristen Berube commiserates with her hunting widow sisters everywhere in this irreverent, laugh-out-loud funny collection of essays, with chapters on Camouflage Lingerie, the Romance of Camping, Primal Home Decor, and more.     
$12.95
Conibear Beaver Trapping in Open Water
Master Beaver Trapping Techniques
by Wesley Murphey
Wesley Murphey clearly describes and illustrates the techniques that he has used to catch hundreds of beavers.  Includes many different types of sets for many diverse waterways. Excellent information on scouting for beavers, beaver habitat, dens, dams and food. Recognized as the best beaver trapping book in America for showing how to actually trap beavers using conibear (body-grip) traps.   110 pages, 110 illustrations     
$12.00    
A Country Doctor and the Epidemics
by Steven D. Helgerson
Can a country doctor alter the fate of his patients? Or his own fate?
In mid October 1918 the largest epidemic of the 2oth Century struck in a small eastern Montana town. Within a few weeks influenza had killed dozens of people in the rural county. But this was just one of a series of extrodinary events attacking the social fabric of the community in 1917 and 1918.
Rich in detail, broad in scope, this story places a fictional physician in the midst of the riveting events of those years. The physician grieves the death of his wife and unborn child. He is deeply troubled by the limitations of medical science. Then he is tragically enveloped by yet another epidemic.
What is the fate of this country doctor?     
$16.95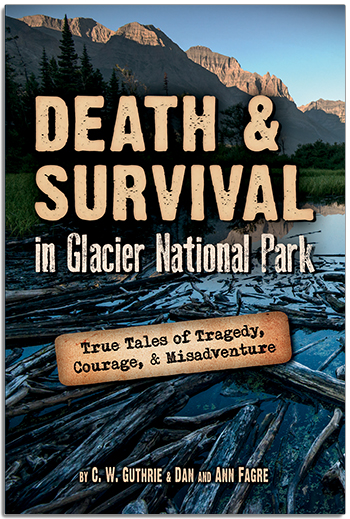 Death & Survival in Glacier National Park
True Tales of Tragedy, Courage, and Misadventure
Sheer cliffs, avalanches, turbulent rivers, cold lakes, severe weather, grizzly bears - these are just a few of the ways you can die while visiting Glacier National Park. Since 1910 when the park was established, 296 people have perished within Glacier's boundaries, and many more somehow survived close calls with death. Death & Survival in Glacier National Park recounts their true tales, as well as stories of the brave and often heroic search-and-rescue professionals who put their lives on the line so that others might live.
Written by local Glacier National Park experts.
Jam-packed with gripping stories of courage and survival against all odds.
Featuring the most complete chronology of all 296 deaths in Glacier National Park, including names, ages, locations, and causes.
Includes maps, charts & graphs.     $18.95    
Deeper Than Memory: Our Struggle With Alzheimer's
Pamela Harr-Rattey
My name is Pamela Harr. This is my story. This is my story of my experiences when my husband, Harvey Rattey, was in the last stages of Alzheimer's Disease, as told through email messages to friends and family. As clearly as I could I told how I felt while Harvey and I experienced our lives as the days and months passed. I will take you on a day-to-day journey with me as I struggle to balance life with other family members, with my husband's and my business, and daily activities, all the while seeking the best available care for my husband. While Alzheimer's is a tragic disease, my story is not tragic. Every day brought moments of intense love, times of joy, and unexpected humor. In seeking to understand how I could best care for my husband, I met new friends and helpers, strengthened my relationship with friends and family in our isolated eastern Montana community, and found a support group who will remain with me through the remainder of my life. I am aware that often my fears, my frustrations and my helplessness, my love, colored my observations and my perceptions. I mean no offense to anyone. I appreciate the gentleness and dedication of the caregivers who worked with us. I appreciate the care and support of my friends.
Artist, speaker, writer, illustrator, physical therapist, rancher, cowgirl, wife and mother, Pamela Harr has led a rich and varied life. Pamela's background as well as her talents, have given her unique insight and strengths as she tackled the job of care-giver and advocate as her husband, Western Artist, Harvey Rattey, declined with Alzheimer's Disease. With candor and honesty Pamela has shared her day-to-day struggles during Harvey's last months. She juggled ranch work, family, business, on-going sculpting, sales, with counting medicines and seeking the best care available for her husband. She depicts the tears and frustrations as well as the tender moments and laughter. Pamela has written articles for Creative Living, Western Horseman, South Dakota Heritage, Southwest Art and a quarterly marketing newsletter.     $24.95     
Encyclopedia of Indian Wars
Western Battles and Skirmishes 1850-1890
Author: Gregory F. Michno
After years of research, independent history scholar Gregory Michno has created a chronological listing of every significant fight between Indians and the United States Army, as well as better-known Indian battle with civilians. In addition, Michno interprets the data to reveal patterns and draw conclusions, some of which challenge the current orthodoxy among historians, such as the revisionist contention that the "wild" West is a myth.     $30.00     
Evelyn Cameron: MT's Frontier Photographer
Text by: Kristen Hager
Born in 1868 to a wealthy British family, Evelyn Cameron traded privilege for adventure, the lush English countryside for the austere eastern Montana badlands, a lavish estate for a tiny homestead shack.
In 1894, at the age of 26, Evelyn turned to the burgeoning art of glass-plate photography as a way to support the Camerons struggling horse ranch, producing some of the most remarkable images of pioneer life ever seen.
Often riding twenty to thirty miles roundtrip, carrying her nine-pound camera around her waist and her wooden tripod in a gun scabbard, she spent thirty-four years documenting eastern Montana. She captured western landscapes: the ruggedly beautiful badlands, vast expanses of unfenced prairie, and otherwordly sandstone formations. And she photographed western characters: sodbusters, cowpunchers, and sheep shearers, stern-faced ranch families, and hopeful, dreamy-eyed immigrants. She also produced some of the first photographs of North American birds.       $14.95
Evelyn Cameron
Photographer on the Western Prairie
 
In 1889, a young spunky British woman of genteel upbringing set sail for the United States—against her family's wishes. She traveled with a friend, Ewen Cameron, the man who later became her husband. They were bound for eastern Montana to hunt big game along the Yellowstone River, only thirteen years after the Battle of the Little Bighorn. The next fall the Camerons returned to England, packed up, and moved to Montana, where they lived for the rest of their lives. They first rented a ranch on the Powder River, among other British expatriates, to raise polo ponies for export to England. After years of limited success in the pony trade, they bought a small herd of cattle, settling into a more dependable existence of ranching and market gardens.
In her first biography, author Lorna Milne uses diaries and letters to reconstruct how Evelyn lived in the harsh eastern Montana landscape and how she became an extraordinary photographer. Evelyn may have been born in England, but through heart and temperament, she was a Westerner. She was resourceful, hard working, observant, artistic, adaptable. According to her contemporary, a traveling Englishwoman, Evelyn was described as "one of the great wonders of Montana."     $14.00
Eye of the Explorer
Views of the Northern Pacific Railroad Survey, 1853-54
by Paul D. McDermott, Ronald E. Grim & Philip Mobley
In the 1850s, Congress authorized and funded five railroad surveys to determine the most practical route for a transcontinental railroad through the western frontier. The northernmost survey, headed by Maj. Isaac Stevens, was the most successful, both scientifically and geographically. Along with the data assembled by numerous scientists and surveyors was the work of two artists, John Mix Stanley and Gustavus Sohon. Their illustrations graphically documented the physical and cultural geography of the northern Great Plains and Pacific Northwest, with a particular eye for Native American life. Eye of the Explorer: Views of the Northern Pacific Railroad Survey reproduces all seventy of the lithographs that appeared with Stevens's final congressional report, published in 1860, as well as twelve of the lovely watercolor images from which the final prints were prepared.
These views depict landscapes of undisturbed wilderness, scenes from the explorers' journey, and glimpses of settlements in the initial throes of development. The accompanying text tells the story of the survey party's adventures, struggles, and day-to-day activities, and describes each image's historical, geographical, and geological importance. Liberally scattered throughout are quotations from the report. Dozens of detailed maps, illustrations, and historical photos further illuminate this engaging history.     $50.00    
Floating on the Missouri:
100 Years After Lewis & Clark
by James Willard Schultz
In 1901, almost a century after Lewis and Clark toiled along the same route, noted writer James Willard Schultz and his Blackfeet wife Natahki (Fine Shield Woman) made a float trip on Montana's Missouri River from Fort Benton to the mouth of the Milk River, a distance of more than 200 miles. In a small boat, they passed through what is now the Upper Missouri National Wild and Scenic River, the Upper Missouri River Breaks National Monument, and the Charles M. Russell National Wildlife Refuge.
On one level, this book is an entertaining travelogue about the river's extravagant scenery, its plentiful wildlife, and the joy of drifting day after day through wild country. On another level, it is a remarkable record of the vanishing American frontier. Each tributary, island, rapid, and geological formation was the scene of some notable event to Indians or white men, including Schultz himself, who had lived in the area since 1877. Schultz relates those events with verve and dialog as if they happened yesterday. The result is an extraordinary book for travelers and historians alike.     $19.95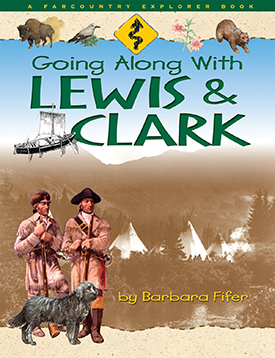 Going Along With Lewis and Clark
by Barbara Fifer
Topic-by-topic, visual treatment of the Lewis and Clark Expedition for children ages 8 to 12. Color maps, sketches, paintings, and photographs with fascinating text, presented in bright and active style, covering 'Who They Were,' 'People They Met,' 'What They Ate,' and more.     $12.95    
Autor: Barabara Van Cleve                
No part of our nation has been more celebrated, glorified, and mythologized than the West. Here is a book on the women who are still shaping those myths. Raised on a ranch in Montana that she still works, Barbara Van Cleve eloquently describes the life of women ranchers in words and pictures in 
Hard Twist
. Her images and text document these women on the range and around their ranches, evoking their labor, their commitment, and the breathtaking landscapes in which they live.
$35.00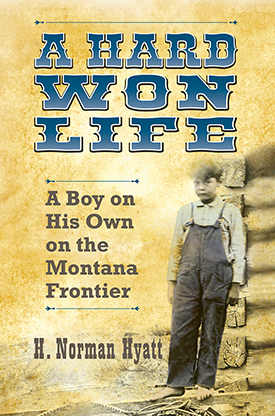 A Hard Won Life
A Boy on His Own on the Montana Frontier
by H. Norman Hyatt
Based on the hand-written memoir of Fred Van Blaricom, this true story recounts a life of hardship and hope in the Montana Territory during the late 1800s. Told in Fred's affable voice and rich with historical detail,A Hard Won Life is a coming-of-age story packed with adventures and grounded in the remarkable lives of the earliest homesteaders—men and women—of the Lower Yellowstone. Meet young Teddy Roosevelt, famed buffalo hunter Vic Smith, saloon owners, devious outlaws, and persistent sheriffs. Working as a cowboy, young Freddie broke horses, helped catch a horsethief, survived the cattle-killing winter of 1886, and at age ten rode alone 100 miles to work a season on a ranch in the Dakota Territories. Fred's was a life of struggle against many obstacles, but he overcame them or abided them with no complaint. As he himself put it: "The hero was throwed, but the horse was tamed." Meticulously researched and superbly written, A Hard Won Life is a tale of bravery, determination, and one boy's embodiment of the spirit of Montana.     $25.00      
Haunted Montana
BY KAREN STEVENS
Here's your ghostly guide to spooks, spirits, and specters of Montana. From haunted hotels to eerie inns, this book will take you to all the spookiest spots in the state. Want to meet a phantom? Experience a poltergeist? Commune with the dearly departed? Let Haunted Montana lead the way to places you can stay to experience the other side.     $24.00
More Haunted Montana
by Karen Stevens
Want to bowl with the ghosts at a bowling alley in Anaconda? Explore a spooky mine near Helena? Have you ever slept with a ghost? At a bed-and-breakfast inn near Missoula, you might find yourself sharing your bed with the ghost of the former landlady! Thirsty? You're welcome to hoist a cold brew at a haunted bar in Billings. But if you don't believe in ghosts, then avoid one particular barstool—or wear a hard hat! One of the resident spooks doesn't care for scoffers.
In More Haunted Montana, certified ghost hunter Karen Stevens once again focuses on haunted sites of historic interest that are open to the public. Just like she did for her first book, Haunted Montana, Stevens personally investigated each haunting and interviewed eyewitnesses to the paranormal sights and sounds. She describes the history behind the haunting, the specific phenomena, and the best way to maximize your chances of encountering the Other World.
You'll find thirty-four spooky stories from all over the state, from the historic Bitterroot Valley to the starkly beautiful prairies of the east. Use this book as a travel guide to the supernatural or simply enjoy it as an entertaining narrative about Montana's most haunted places.      $25.90
Homesteading 
Settling America's Heartland
Autor: Dorothy Hinshaw Patent
Photographer: William Munoz
Beginning with the Homestead Act of 1862, hundreds of men and women seized the opportunity to create a new life on the western prairie. In Homesteading: Settling America's Hearland, award-winning children's autor Dorothy Hinshaw Patent and photographer William Munoz reveal how these brave pioneer families made the most of their scarce resources to build a house, cultivate crops, and bring up children on the desolate grasslands of the American Great Plains. Some failed, but others survived and eventually thrived, opening the way ofr generations of Westerners to come.       $12.00
Honey - The Continuing Adventures of a Young Cowboy 
by Stu Campbell
Follow our young cowboy friend while he works his summer job at a dude ranch where he picks up the nickname "Honey"-a moniker he doesn't much like. He also finds himself with a girlfriend-a situation he does like. "Honey" is the second book in a series that follows our young friend on his journey into manhood, which includes nightly kissing practice with his girlfriend Sally.     
$16.95    
Humor Around Horses
by Stu Campbell
Author and cowboy, Stu Campbell is a tall, lean cowboy from the old school. Generally on the quiet and shy side, Stu has the ability to look on the lighter side and see the humor in any situation. In this book, Stu brings us his humorous adventures dealing with horses and the people who ride them. In a true spirit of western storytelling, Stu gives us a true portrait of life as a cowboy and keeps us laughing all the way. Line drawings by cowboy artist, R. Loren Schmidt.    $14.95
More Humor Around Horses
by Stu Campbell
Author Stu Campbell continues with his gift of gab about ranch life, running horse rental stables, and the people he meets along the way. Stu has the knack of always looking on the bright and humorous side of life, which makes for some laugh-out-loud storytelling.    $14.95    
Images of America: Glendive
by Dr. R. Michael Booker Jr.
Glendive was founded in the early 1880s, and its growth was promoted and sustained by the Northern Pacific Railroad. Legend holds that Sir George Gore, on a hunting expedition with famed mountain man Jim Bridger, named a creek in the area Glendale Creek after a similar one in his native County Donegal, Ireland. Over the years, the word "Glendale" somehow transformed into "Glendive." Prior to the arrival of European Americans, indigenous peoples, including the Crow and the Lakota Sioux, called the area home. The arrival of the Northern Pacific in 1881, along with the passage of the Enlarged Homestead Act in 1909, lured people from America and abroad to this isolated region to pursue their version of the American dream.     $21.99
The Last Buffalo Hunt and other Stories: Adventures in the Great American Outdoors
by J. I. Merritt 
Read and relish some of America's greatest outdoor stories and characters in J.I. Merritt's The Last Buffalo Hunt & Other Stories. The stories in this anthology originally appeared in different publications, such as Field and Stream Magazine, and feature legendary Americans as well as some lesser-known figures in history, giving readers a unique first-hand glimpse into the past, names such as the iconic Daniel Boone, John Muir, and Theodore Roosevelt, are woven into the text. Many of the stories and characters played important roles in shaping modern outdoor sports and the United States as we know it today. For example, Ishi, a California Indian, could arguably be responsible for modern day archery as he taught Americans the sport, equipment, and techniques.     
$17.95   
Law of the Range:




Portraits of Old-Time Brand Inspectors
More than a decade ago, Stephen Collector began photographing brand inspectors throughout the West. This simple curiosity gradually became an obsession, resulting in Law of the Range, runner-up as the best Art Book in the Rocky Mountain region. Collector's goal was to achieve the portrait as landscape, and to know the landscape and its people. His black-and-white photographs document beautifully a part of the West missing and presumed dead. However, rustling is not entirely a thing of the past, and the profession of the range detective did not die out with Tom Horn. Collector's fifty duotone portraits of inspectors, with short biographies and a dozen detail shots, are wonderfully enriched by Annick Smith's evocative and informative introduction. This is indeed the portrait as landscape, and though the landscape may be irreparably altered by progress, the souls of these men endure.     $45.00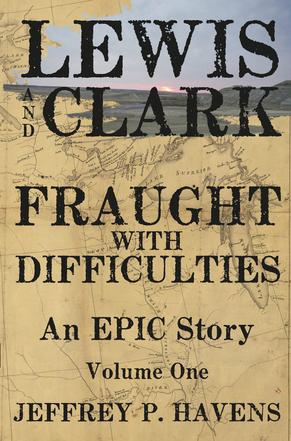 Lewis and Clark: 

Fraught with Difficulties
An EPIC Story
The exciting quest to find the fabled Northwest Passage begins in Volume One on the Lewis and Clark trail! Follow the Missouri River from St. Louis to its ultimate source in the untamed mountains of today's southwestern Montana, while encountering many friendly and hostile Native American tribes, and experiencing the hardships of rugged travel during the difficult expansion of a great nation in its infancy.
In 1803, United States Army officers Meriwether Lewis and William Clark accepted a dangerous mission to explore the western portion of what today is the United States. The mission was offered by President Thomas Jefferson to Lewis who chose Clark to help lead the expedition. The mission had many purposes. Among the purposes was to document whether a water route existed to the Pacific Ocean, which was known as the "Northwest Passage."     $15.99       
Life of a Soldier on the Western Frontier
Their heads filled with images of glory and battle, most young men joined the frontier army only to endure a life of tedious drills, bad meals, uncomfortable quarters, and ill-fitting uniforms. Working hard seven days a week and in all weather, soldiers frequently found themselves lonely and bored, with little opportunity for advancement but many ways to be punished all for $13 a month.
Focusing on the Indian Wars period of the 1840s through the 1890s, Life of a Soldier on the Western Frontier captures the daily challenges faced by the typical enlisted man and explores the role soldiers played in the conquering of the American frontier. In addition to describing the nitty-gritty details of a soldier s daily life, this fascinating study explores the Indian Wars from the perspective of both the military and the Indians and examines all aspects of the post Civil War army, including its organization, its weapons, and its personnel. The book also contains two appendices, one summarizing significant battles and the other listing selected western forts. Both include site locations and information for visitors. Dozens of photos and several maps add to the reader s understanding and enjoyment.     $18.00       
Lucky to Live in Montana
What do you get when you cross a read-aloud storybook with a write-in memory book? Magic moments between kids and adults! The Lucky to Live in Montana book is the perfect tool to jump-start meaningful conversations between generations. Read-aloud rhymes set up interesting topics. Then write-in prompts invite children to record their own views to create a personal Big Sky State keepsake. The real gift lies in the interactive nature of the book as it offers the perfect opportunity for adults to share their own stories and wisdom about such issues as friendship, community, team spirit, and other topics that help develop a child's social and emotional skills. Customized Montana content—from favorite local cuisine (bison burger) to interesting attractions (Glacier National Park)—provides an even more personalized experience.     $16.00
Mammals of Montana
Second Edition
Author: Kerry R. Foresman

Photographer: 
Alexander V. Badyaev
This comprehensive guide details the taxonomy, ecology, behavior, reproductive biology, and distribution of all 109 mammal species in Montana, from the pygmy shrew, one of the tiniest mammals in the world, to the bison, the largest land mammal in North America. Whether you want to distinguish between the 15 species of bats that live in or migrate through the state or are simply trying to identify the squirrel in your backyard, Mammals of Montana is for you. This second edition contains more than 500 color photographs, many by renowned wildlife photographer Alex Badyaev. Scattered throughout the species descriptions are interesting and curious facts about these wild creatures. Learn which shrew is venomous, how the pika survives winter in its alpine habitat without hibernating, and what animal squeezes through vole tunnels in search of dinner. Author Kerry Foresman also covers the reintroduction efforts to save Montana species, such as the black-footed ferret and swift fox, from extinction, and he cautions how climate change may push others, such as the northern bog lemming and wolverine, to the brink.     $32.00    
The Man Who Shot Liberty Valence
by Dorothy M. Johnson
Dorothy M. Johnson wrote dozens of highly acclaimed western stories and books in her long career. The stories in this book are her very best. They were ranked as four of the top five stories of the 20th century by the Western Writers of America, with "The Man Who Shot Liberty Valance" as number one. That story plus "A Man Called Horse" and "The Hanging Tree" became major Hollywood films. This is the first time Johnson's famous stories have been published together in one book. This edition is destined to earn a place in every western library. Great educational tool too!     $19.95
Mercy for Me
A ruptured brain aneurysm plunged this couple into the strangest period of their lives. Arlie Rauch, husband of the patient and pastor at Community Bible Church in Glendive, Montana, tells the true story of their excruciating experience. This drama is a tribute to the inexhaustible love and goodness of God, poured out upon two people from sparsely populated eastern Montana.     $13.95   
Montana 1864:


Indians, Emigrants, and Gold in the Territorial Year
by Ken Egan
In 1864, vast herds of buffalo roamed the northern short-grass prairie and numerous Native American nations lived on both sides of the adjacent Continental Divide. Lewis and Clark had come and gone, and so had most of the fur trappers and mountain men. The land that would become Montana was mostly still the wild and untrammeled landscape it had been for millennia.
That all changed in a single year—1864—because of gold, the Civil War, and the relentless push of white Americans into Indian lands. By the end of that pivotal year in the history of Montana—and in the history of the American West—Montana was the newest United States territory.
In Montana 1864, writer and scholar Ken Egan Jr. captures this momentous year with a tapestry of riveting stories about Indians, traders, gold miners, trail blazers, fortune-seekers, settlers, Vigilantes, and outlaws—the characters who changed Montana, and those who resisted the change with words and war.
Egan's vivid narrative style immerses readers in the conflicting currents of western expansionism as it actually happened, providing a unique and thought-provoking examination of Montana's beginnings.     $19.95
Montana Americana Music: Boot Stomping in Big Sky Country
By Aaron Parrett, Foreword by Smith Henderson
Montana's relationship to Americana music is as wide and deep as the famed Missouri River that inspired countless musicians seated at its shores. From the fiddling of Pierre Cruzatte and George Gibson in the Corps of Discovery to the modern-day loner folk of Joey Running Crane and Cameron Boster, the Treasure State inspires the production of top-notch country music. In the 1950s, bands like the Snake River Outlaws fostered a long-standing love of hillbilly honky-tonk, and in the 1970s, the Mission Mountain Wood Band added a homegrown flavor of its own. Contemporary acts like the Lil' Smokies and songwriter Martha Scanlan promise a vibrant future for the local sound. Author and musician Aaron Parrett explores this history to show what it means to boot stomp in Big Sky Country.     $21.99
Montana Beer
Montana's brewing history stretches back more than 150 years to the state's days as a territory. But the art of brewing in Montana has come a long way since the frontier era. Today, nearly forty craft breweries span the Treasure State, and the quality of their output rivals the best craft beer produced anywhere in the country. Maybe it's because there's also a little piece of Montana in every glass, as the state's brewers pride themselves on using cold mountain water and locally sourced barley harvested from Montana's ample fields. From grain to glass, Montana Beer: A Guide to Breweries in Big Sky Country" tells the story of the brewers and breweries that make the Treasure State's brew so special."     $19.99
Montana: East of the Mountains, Vol. 2
by Rick Graetz 
Lively words and stunning pictures of this land east of Montana's Northern Rocky Mountains.     
$14.95
Montana Ghost Stories: Eerie True Tales
by Debra D. Munn
This collection of stories span the state wherever ghosts ramble and roam. The subjects are star-crossed lovers, murderers and the murdered, miners and cowboys, and Native Americans, all carefully researched and authenticated by interviews with the people who have witnessed the unknown and unexplained. Originally published as Big Sky Ghosts Vol. 1 & 2 in the early 1990s, these long out-of-print stories deserve to be brought back from the dead.     $12.95
Montana Is...
By Mike Logan In Conjunction with Buglin' Bull Press
Mike Logan's photography showcases the majesty of Montana, high, wide, and wonderful!     $11.95
A Montana Journal
by Christopher Cauble
This is a beautiful new book for all who love Montana. A cloth hardcover with a "tipped-in" front cover photo and foil stamping, it features 144 lined pages for writing and 36 pages of evocative color photography from across the state, plus several treasured quotations about Montana from famous authors. The writing pages have subtle lines on matte paper, perfect for pen or pencil. The color photographs are brilliant on art-quality glossy paper. The book has a sturdy sewn binding and a bound-in ribbon marker. There is no other Montana book like it, an elegant journal that is functional and durable, great for home or backpack.     $24.95
The Montana Medicine Show's Genuine Montana History
by B. Derek Strahn
Step right up for entertaining Montana history
Montana's history is never dull in a new book packed with lively accounts of the state's people, places and events.
"The Montana Medicine Show's Genuine Montana History" by Derek Strahn is based on Strahn's popular radio show that originates at KGLT studios on the campus of Montana State University-Bozeman.
"The Montana Medicine Show's main objective is to entertain—to relate some interesting or quirky anecdote and provide a thought-provoking glimpse of Montana's past," Strahn said.
Given the fleeting nature of radio and the need to make a quick impression, the radio scripts lean heavily on vivid historic quotes and dramatic first-hand accounts. This style makes the book fun to read, and, unlike the radio show, the book adds intriguing historic photos and illustrations for each of the 117 stories.
The book highlights little-known hucksters, risk-takers, reformers, and reprobates along with famous politicians, artists, Native Americans, and sports heroes. Numerous women are featured, including ground-breaking professionals, Hollywood stars, and fearless human-rights activists. Natural events such as floods, fires, earthquakes, and blizzards take their turns, too.
Readers of the book will discover the truth of journalist Joseph Kinsey Howard's famous observation: "Montana has lived the life of America, on a reduced scale and at breakneck speed."     $15.95
Montana State Parks:  Complete Guide & Travel Companion
by Erin Madison and Kristen Inbody
Montana's 55 state parks are a spectacularly diverse collection of natural areas, historic sites, and fun places where visitors are welcome to hike, camp, fish, swim, boat, photograph, watch wildlife, learn, and explore.
Join award-winning Great Falls Tribune reporters Erin Madison and Kristen Inbody as they visit each park and interview park managers, historians, and visitors to provide the most complete and up-to-date information about these remarkable public lands. Their unique book is packed with current information and special features, including:
- Key information at a glance                                                                                                                                                                                                                         
- Best parks for camping, boating, hiking, and recreation
- Best parks for history and natural wonders
- Author-recommended activities
- Photos, maps, and directions
- Accurate information on all campgrounds, fees, and facilities
- A foreword by Montana Governor Steve Bullock
- A special Smith River essay by Montana novelist Maile Meloy
- Perfect size for taking along on trips
- The only guidebook to all the parks
- Use this book to find a favorite park—or take the State Park Challenge and visit all of them!      $19.95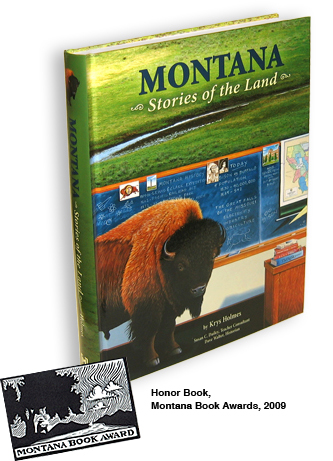 Montana Stories of the Land
by Krys Holmes, with major contributions by Dave Walter and Susan C. Dailey
More than 12,000 years of Montana history come to life in Montana: Stories of the Land. This new book, created for use in teaching Montana history, offers a panorama of the past, beginning with Montana's first people and ending with life in the twenty-first century. 
Incorporating Indian perspectives,Montana: Stories of the Land is the first truly multicultural history of the state. It features hundreds of historical photographs, unique artifacts, maps, and paintings largely drawn from the Society's extensive collections. Sidebar quotations bring the stories of ordinary people to life while providing diverse perspectives on important historical events.       $59.95  AWARDS: Honor Book, 2009 Montana Book Awards.
Montana Trivia
by Janet Spencer
This fun-filled, fact-filled trivial extravaganza will keep you laughing, keep you learning, and keep you guessing. Trivia Queen Janet Spencer scoured libraries, archives, and museums for the oddest and most obscure figures, facts, and fascination she could find. The perfect campfire companion! Use the book to play a homemade version of Trivial PursuitTM. Keep a copy in your glovebox, or put it in your bathroom!     

$9.95    
Montana UFOs and Extraterrestrials
by Joan Bird
In 1950, two spinning disks flew over Great Falls, Montana, and were filmed on a hand-held camera. Today, those "flying saucers" in the now-famous "Montana Movie" still defy conventional explanation.
In the 1960s, UFOs were reported at Minuteman missile silos in Montana. In separate incidents while a UFO was overhead, armed and ready nuclear missiles were suddenly deactivated as missile launch officers watched helplessly. The U.S. Air Force ordered these men never to tell anyone what happened.
This book critically examines these and other UFO events in Montana, including reported contact with extraterrestrials. Drawing on recently declassified government documents, historic reports, and first-hand interviews, Ph.D. zoologist and author Joan Bird presents compelling evidence that UFOs are real, have frequented Montana's Big Sky, and have landed in the state.     $14.95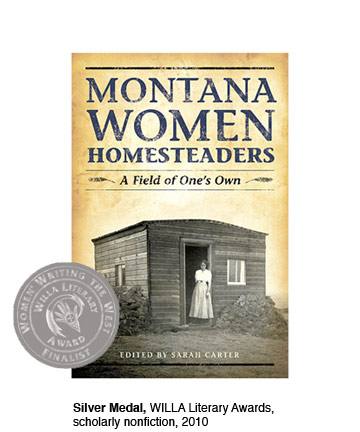 Montana Women Homesteaders
~ A Field of One's Own ~
Edited by Sarah Carter
In Montana Women Homesteaders: A Field of One's Own, Sarah Carter introduces the voices and images of women who filed on 160- or 320-acre homestead plots in Montana. Single, widowed, divorced, or deserted, women varied in ages, educational levels, and ethnic backgrounds, but all "proved up" on their homesteads. In published accounts, scrapbooks, personal reminiscences, and photographs, the women recorded their remarkable journeys.    
$17.95
SILVER MEDAL, WILLA Literary Awards, scholarly nonfiction, 2010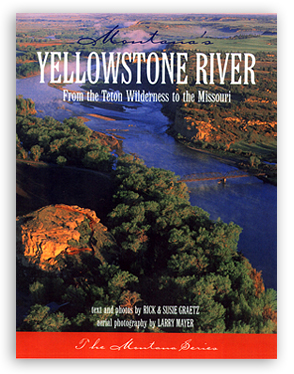 Montana's Yellowstone River
From the Teton Wilderness to the Missouri
by Rick and Susie Graetz
From beginning to end, the history, beauty, landscape, and communities surrounding this powerful, free-running river. Features 80 color photographs.     $19.95                            
Montana: A Cultural Medley
by Robert R. Swartout, Jr.
The whole is greater than the sum of the parts when Montana historian Robert Swartout gathers the fascinating stories of the state's surprisingly diverse ethnic groups into this thought-provoking collection of essays. Fourteen chapters showcase an African American nightclub in Great Falls, a Japanese American war hero, the founding of a Metís community, Jewish merchants, and Dutch settlement in the Gallatin Valley, as well as stories of Irish, Scots, Chinese, Finns, Mexican Americans, European war brides, and more.     $19.95                            
Names on the Face of Montana
by Roberta Carkeek Cheney
Follow the prospectors of Gold Creek and Granite, honor government officials with Jefferson and Meagher, smile with the old-timers at Ubet, and ride the prairie with cattlemen turning brands into Two Dot and Seventy-nine.     $14.00               
Nature's Yucky!
Gross Stuff That Helps Nature Work
by Lee Ann Landstrom and Karen I. Shragg
Did you know that honey is really bee barf? That grizzly bears sometimes eat rotting meat? Or that turkey vultures poop on their own feet? Nature's Yucky uses kids' natural fascination with the stinky, the gross, and the icky to help them learn more about wild animals and why critters behave as they do.
Younger children will love having the book read to them, while older children and adults will also enjoy the "Animal Facts" section in the back, which has more in-depth information on the featured animals. Kids of all ages will get a kick out of learning to identify the droppings of various animals by making (and eating!) "scat cookies." Lovely watercolor illustrations balance out the "yuckiness," reminding us that nature is not just disgusting, but beautiful, too. For K-5th grade.     $10.00  
Nature's Yucky! 2
The Desert Southwest
by Lee Ann Landstrom and Karen I. Shragg
This follow-up to the disgustingly popular Nature's Yucky! takes young naturalists and other lovers of foul facts and icky information on an expedition to the American Southwest. Nature's Yucky! 2 introduces readers to sixteen desert creatures and vividly answers such scintillating scientific questions as: How does the regal horned lizard squirt blood from its eyes? Why do dung beetles eat poop? Why does the piglike javelina smell like stinky socks? Astonishingly detailed illustrations capture not just Mother Nature's revolting qualities but her stunning beauty.
With it's "Eeewww!! That's YUCKY!" refrain, the book is especially fun for reading aloud. Serious scholars will enjoy gathering further information about each animal in the "More Fun Facts" section. Those with an appetite for further yuckiness can use the kid-friendly recipe for raven-gut upside-down cake or sing the "Nature's Yucky!"song. There is also a list of books and Web sites to encourage further scientific exploration.
$12.00
Nature's Yucky! 3
The Eastern United States
by Lee Ann Landstrom and Karen I. Shragg
Did you know that white-tailed bucks eat the bloody velvet shed from their antlers? Or that bobcats use their tongues as toilet paper? Or that leopard frogs barf so hard their stomach comes out of their mouth? Nature's Yucky! 3, the third installment in the Nature's Yucky! series, dishes up the disgusting-yet-fascinating explanations for these odd behaviors as well as those of thirteen other denizens of the eastern United States. 
The book's dazzling full-color illustrations and writing that begs to be read out loud will mesmerize younger children, whereas in-depth information in the "More Fun Facts" appendix will grab the attention of older children and adults. All readers will enjoy the bird-poop caterpillar pretzels that can be made from the included recipe. Nature may be yucky, but Nature's Yucky! 3 illuminates how the nauseating traits of animals help make the natural world a diverse and interesting place.     
$12.00
Owls, Whoo Are They?
From tufts to talons, this book tells about all 19 species of owls found in the United States and Canada. It includes 36 full-color illustrations and 10 anatomical line drawings. A delightful introduction to owls for all ages.    

$12.00
Photographing Montana, 1894-1928: The Life and Work of Evelyn Cameron
Photographing Montana showcases more than 150 of Evelyn Cameron's photographs, including vast landscapes, range horses, cattle roundups, farmers' fields, and the wildlife of the high plains. Her vivid images convey the lonely strength of pioneers and the slow growth of Terry, Montana.     
$40.00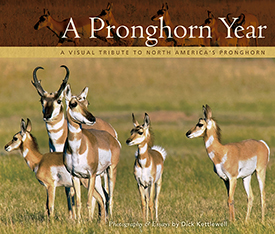 A Pronghorn Year
A Visual Tribute to North America's Pronghorn
by Dick Kettlewell
Our prairies, plains, and rangelands would be empty landscapes without the supremely adapted pronghorn. InA Pronghorn Year: A Visual Tribute to North America's Pronghorn, Dick Kettlewell beautifully captures this animal's amazing speed, eight-power eyesight, and all-season hardiness. More than 100 full-color images—including rare close-ups of newborn fawns—complement the lively, intriguing text, sure to entertain and inform readers of all ages.     $14.95     
Raptors of the West
Captured in Photographs
Winner National Outdoor Book Award

by Kate Dunlap
Davis's books are not only the best books available on (western) American birds of prey for the lay reader and serious amateurs, but their sensational photographs and sound technical information also make them useful and enjoyable to hardcore raptor biologists --Lloyd Kiff, Raptor Researcher
With their striking looks, keen vision, and hunting prowess, the birds of prey—eagles, hawks, falcons, and owls—have long captured the human imagination. Now Raptors of the West, a collection of some of most remarkable and action-packed raptor photographs ever taken, can inspire your own imagination to take flight. This book, the latest collaboration by award-winning photographers Rob Palmer and Nick Dunlop and author/ photographer Kate Davis, is a glorious photographic ode to the forty-five birds of prey that roam the skies of the American West. 
Instead of grouping the birds by type—owls with owls, hawks with hawks—the book has chapters arranged by the habitat type and region where each bird spends the breeding season. Whether you're enjoying these pages from the comfort of your own armchair or taking a trip to the field you can see which birds to look for in that area—Swainson's Hawks soar over grasslands next to Prairie Falcons while Cooper's Hawks share mature forests with Flammulated Owls. While the 430 stunning color photographs are enough to set this book apart on their own, Davis's informative and entertaining text completes the picture.     $30.00      
Roadside Geology of Montana
by David D. Alt
Montana's geologic history includes a long succession of disturbances that changed the rocks, then changed many of them again. Unraveling these events reveals a geologically quiet continent that got scrambled in a long and grinding collision with the Pacific crustal plate. Through detailed geologic maps and lively text, Roadside Geology of Montana deciphers the complicated rock record and uncovers each layer of Big Sky Country.     $20.00     
Roadside History of Montana
by Don Spritzer
Roadside History of Montana goes well beyond cowboy stories to tell of the struggles of dryland farmers, the rowdy antics of mining- town denizens, and the heroism of smoke jumpers and park rangers. Author Don Spritzer's love of Montana in all its diversity shines through in each vignette as he introduces readers to Montana's independent, adventurous, and often eccentric people. Readers will learn surprising facts about the Treasure State's past and meet its most fascinating people, from the copper kings of Butte to the Freemen of Garfield County.
Dividing the state into six geographical-historical areas, Roadside History of Montana follows main highways to reveal the stories hidden within the vast Montana landscape, delighting readers with lively anecdotes along the way. Spritzer speaks of each little town and crossroad with the intimacy of someone who's been there-and indeed he has. Accentuating the text are 170 historical photographs and numerous maps.     
$20.00       
Sacagawea's Son
The Life of Jean Baptiste Charbonneau
Author:  Marion Tinling
When the explorers Lewis and Clark asked the Shoshone woman Sacagawea and her husband, French trapper Toussaint Charbonneau, to act as interpreters for their expedition, the couple brought along their two-month-old son, Jean Baptiste. Over the course of the two-year journey, baby Baptiste won the hearts of the rough men of the corps. Captain Clark called him "my little dancing boy." But the rest of the story of this intriguing young figure has been largely untold--until now. 
Sacagawea's Son: The Life of Jean Baptiste Charbonneau tells the action-packed, sometimes poignant story of a boy born to adventure. Baptiste's experiences with the Corps of Discovery were only the beginning. Educated in St. Louis by Captain Clark, he went on to live in a royal palace in Europe and to speak many languages. But, truly his parents' son, he returned to the American West, living out his life as a trapper, scout, and explorer alongside the likes of Kit Carson, James Bridger, and John Fremont. Readers ages ten and up will thrill to this lively and fascinating account of the life of Jean Baptiste Charbonneau--a child chosen by history.     $12.00
Shot in Montana: A History of Big Sky Cinema 
by Brian D'Ambrosio
For nearly a century, movies have been made in Montana. The state played itself in Cattle Queen of Montana, Thunderbolt and Lightfoot, Winter in the Blood, and the iconic A River Runs Through It, and it doubled for an Arctic ice pack in Firefox, Nebraska in Nebraska, the authentic Old West in Heaven's Gate, and even heaven in What Dreams May Come.
Montana's Kootenai River swallowed up Academy Award-winning actress Meryl Streep in The River Wild, a stunt double for Leonardo DiCaprio tumbled down Kootenai Falls in The Revenant, and Forrest Gump ran through Glacier National Park. The city of Butte played itself in Evel Knievel, substituted for San Francisco's Chinatown in Thousand Pieces of Gold, and hosted a zombie apocalypse in Dead 7. Charles Bronson's Telefon blew up a school in Great Falls, Jack Nicholson and Marlon Brando battled in the badlands of The Missouri Breaks, and Far and Away's Oklahoma land rush with Tom Cruise and Nicole Kidman actually thundered across Montana prairie.
From megahits with the biggest Hollywood stars to acclaimed independent films and forgettable flops, nearly a hundred movies have been made, in whole or in part, in Montana, and for the first time this treasure trove of filmmaking has been thoroughly researched and documented. Montana author Brian D'Ambrosio (Warrior in the Ring) describes every movie, including the actors, directors, and shooting locations, and reveals fascinating stories and incidents that took place behind the cameras.
Featuring 120 photos and interviews with actors and filmmakers, Shot in Montana is a blockbuster adventure through the Treasure State's cinematic history.     $22.95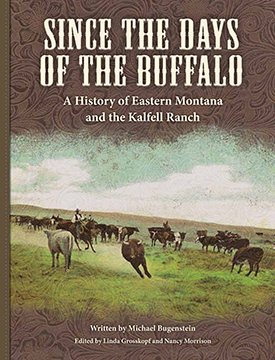 Since the Days of the Buffalo
A History of Eastern Montana and the Kalfell Ranch
by Michael Bugenstein
A comprehensive history of Eastern Montana in nine chapters, as well as the experiences on an a long-term family ranch on the High Plains. Since the Days of the Buffalo covers important and little-known facets of Great Plains history including tribal migration and settlement, open range days, homestead life, railroads, horse capture and outlaws, and the effect of the Great Depression, New Deal, and war effort in Eastern Montana. Ranching topics cover droughts and water supplies, economic downturns, diversification, land disputes and inheritance issues, presented with a "human" perspective. Since the Days of the Buffalo is an easy-to-read reference, as well as a "road map" of what today's ranchers can expect in the future.     $24.95     
Soul of the Rockies: Portraits of America's Largest Mountain Range Hardcover
This is the second book in Ed Cooper's Soul of the Heights series and is intended to be a celebration of the Rocky Mountains, capturing on film and in text what the author describes as the soul of the Rocky Mountains.     $39.95      
Ever wonder what a storm chaser does? 
Come along with meteorologist and storm chaser Jon Davies and find out! Davies teaches kids 8 to 12 about severe storms, tornadoes, and storm chasing as he trails a twister in the Kansas countryside. Check out the gadgets storm chasers use, learn how they read the sky for clues on extreme weather, and get up close and personal to wild tornadic winds! Fully illustrated.    

$12.95
Taking a Bullet for Conservation
The Bull Moose Party—A Centennial Reflection 1912-2012
Jim Posewitz
$3.95
They Called Me Buster
by Bus Morris as told to Karen Morris
"We were what people of this day and age would consider to be poor and underpriveliged. But it was just a way of life. Everyone was in the same boat."
These are the recollections of Bus Morris. More than that, they are also the recollections of many of the people who grew up in the hard times of the 30s. His story is also their story. Over the years, things have changed, but the memories of these times and the way things were have had a continuing impact on the lives they have led.
Join Bus for a stroll down memory lane and, just perhaps, along the way, you may gain a bit more insight into this very special generation.     $7.50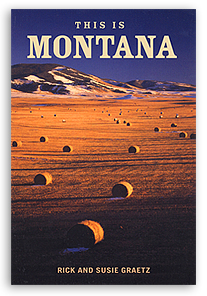 This is Montana
by Rick and Susie Graetz
A comprehensive look at the geographic beauty of the state through 151 lively essays. Features 124 black-and-white photographs.    $25.00
Three Ringlings in Montana
Circus Trains To Cattle Ranches
by Lee Rostad
The Ringling Brothers Circus—the world's greatest shows!—made five brothers some of the wealthiest men in America in the early 1900s.
One of them—flamboyant John Ringling—came to Montana in 1903 looking for investments. He ended up building a railroad and launching a ranching company.
Richard, son of circus brother Alf T. Ringling, followed his Uncle John to Montana in 1917 and built a cattle and sheep empire. He and his family settled in a mansion in White Sulphur Springs.
Richard's son Paul was born in Montana in 1920 and became a prominent rancher and state legislator. He still lives in the state as this book is published.
The Ringlings made their marks in Montana in many ways, from a town named after them to the historic Bozeman Roundup rodeo.
Author and historian Lee Rostad tells the Ringlings' Montana stories, plus tales of the circus's ups and downs, in this engrossing volume. Her research included access to the family's private papers and photographs, including many images in this book.         $15.95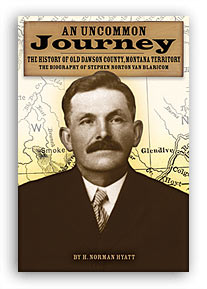 An Uncommon Journey
by H. Norman Hyatt
The History of Old Dawson County, Montana Territory
The Biography of Stephen Norton Van Blaricom, A True Story of the First Settlers of the Last West
Based on the memoir of Stephen Norton Van Blaricom, An Uncommon Journey details the origins of Dawson County, Montana, in the late 1800s.
The oldest of nine children, Van Blaricom left home at the age of thirteen and worked for many of northeastern Montana's earliest ranches. After working for the Northern Pacific Railroad, he married Maud Griselle, one of the first female telegraphers for the Northern Pacific.
More than a family history, An Uncommon Journey tells the personal stories of many of the first settlers of this last West: buffalo hunters, cattlemen, train drivers, early tradesmen, saloonkeepers, scallywags, and lawmen.
This is the story of many of the long-forgotten first settlers of old Dawson County and how they met the challenges of a country that was then primitive and remote at its best and deadly at its worst. For all of them it was, indeed, An Uncommon Journey.     $24.95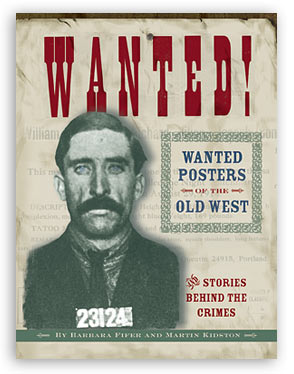 Wanted! 
Wanted Posters of the Old West And Stories Behind the Crimes
by Barbara Fifer
and Martin J. Kidston
This rare collection of wanted posters from the American West is a historical treasure. The book's nearly 150 original wanted posters, fugitive notices, and Pinkerton Agency circulars are supplemented by fascinated details about the technology of identification, the history of wanted posters, and the stories behind the crimes, which ranged from horse theft, safe blowing, train robbery, seduction, ''white slavery,'' and murder. Posters for notorious bandits such as Jesse James, Butch Cassidy, and the Sundance Kid are also featured.      $19.95
The War of the Copper Kings
by C.B. Glasscock
Greed and corruption, bribery and fraud, insiders getting fabulously rich while workers get robbed.
Sound familiar? That was the great battle for Butte, Montana, at the dawn of the 20th century when it was the richest hill on earth. Copper was the treasure, eagerly sought for wiring the modern world, and the hard rock below Butte was riddled with thick veins of the precious metal. Those who controlled the copper could make billions of dollars, the fortune sought by three men who fought for Butte's mineral wealth with greed and generosity, cruelty and compassion, cowardice and courage.
In this astonishing battle, they used their fabulous wealth to buy courts, newspapers, politicians, banks, police, and anything and anyone that could help them and hinder their opponents. To get what they wanted, their money flowed like snowmelt through the mile-high city and eventually reached the nation's capital. All the while the miners toiled thousands of feet below ground in tunnels dug with blasting powder, picks, and shovels. And sometimes, backed by rival copper kings, they also battled, with fists and dynamite, either on the streets of Butte or far below the surface.
At this time, Butte was the largest city between Minneapolis and Portland, and it was a wide-open town, born only recently in the rugged Rocky Mountains. Illustrated by rare historical photos, this book tells the story of Butte and the copper kings, a story of raw human drama and timeless historical significance.     $19.95
Western Butterflies for Young Explorers
An A to Z Guide
by Sharon Lamar
Anyone who has ever stopped to watch a butterfly flit across a mountain meadow or backyard garden will love Western Butterflies for Young Explorers. This beautifully illustrated guide helps children identify twenty-six butterflies of the western United States—one for each letter of the alphabet, from the Anise Swallowtail to the Zerene Fritillary. In between, young explorers will discover a wide variety of species, including such favorites as the Monarch, the Tiger Swallowtail, and the Painted Lady. Each entry presents a lovingly rendered watercolor of a specific butterfly along with a simple but thorough description of its caterpillar, it coloring, and its mature wingspan, as well as its range, habitat, and preferred host plant. In addition are fun facts about butterfly natural history. Did you know that butterflies identify their host plants by tasting them with their feet? Western Butterflies for Young Explorers is a wonder-filled guide for budding naturalists and their families to share.     $14.00
"The Whole Country was... 'One Robe'": The Little Shell Tribe's America
Co-published by the Little Shell Tribe of Chippewa Indians of Montana and Drumlummon Institute
"The Whole Country was . . . 'One Robe,'" by historian and folklorist Nicholas Vrooman, is an extraordinary account of an extraordinary people. Dr. Vrooman, after a lifetime of engagement with the history of a burgeoning and distinctive aboriginal amalgam culture on the Northern Plains, gives us the untold story of the Little Shell Tribe of Chippewa Indians of Montana.
In twenty-nine meticulously researched chapters, Dr. Vrooman provides the full context for the Little Shell's present-day circumstance in Montana, from origins in the Upper Midwest to their role as successful traders, buffalo hunters, guides, and scouts in North Dakota and Montana (on both sides of the U.S.-Canada border), to their struggle for survival on the margins of Montana towns through the 1950s.
Vrooman writes: "Because of intense historical prejudice, the members of the Little Shell Tribe of Montana live today in a very distinctive and critical conundrum within the greater society. . . . The grand narrative of the Little Shell is . . . one of immense courage, fortitude, resilience, perseverance, hope, and love. It is a story that comprises the deeper, truer telling of our continent's history."  $39.95
Women in Wonderland
Lives, Legends and Legacies of Yellowstone National Park
by Elizabeth A. Watry
"Betsy Watry tells the tales of a dozen women, some of whom had short-lived adventures in Yellowstone National Park, but most of whom spent decades as rangers, scientists, interpreters, and entrepreneurs, shaping the Park's physical and cultural landscape. This is a wonderful 'hidden' history, full of surprising stories, grounded in intensive research and written with charm."
—Dr. Mary Murphy, historian and author of Hope in Hard Times
"For so long, Yellowstone National Park has needed a book about the women who stood and today stand tall in its history. At long last, Elizabeth Watry has produced it. Women across the nation should celebrate this book for its noteworthy contribution to women's history, as we professional historians do."
Lee Whittlesey, Park Historian, National Park Service, —Yellowstone National Park
"To read about Yellowstone National Park too often means viewing it through the eyes and exploits of men. By sharing the experiences and contributions of women who visited, lived, and worked in Yellowstone, Elizabeth Watry places women front and center in the Park's wondrous history. Women in Wonderland is sure to become a treasured resource."
—Diane Smith, author of Letters from Yellowstone     $19.95
Yellowstone Has Teeth:
A memoir of living year-round in the world's first national park
by Marjane Ambler
Few people have experienced Yellowstone National Park like Marjane Ambler. She and her husband lived in a tiny community near the shores of Yellowstone Lake, deep in the park's interior. The natural beauty was magnificent, but Ambler and her neighbors discovered that Yellowstone "had teeth." It could be an unforgiving place where mistakes mattered.
In this well-constructed narrative, Ambler reveals a hidden Yellowstone, a place where delight and danger are separated by the slimmest of margins: a degree of pitch on an avalanche slope, a few inches of a buffalo's horn, a moment during a deadly wildfire. She also tells about:
• The rangers and maintenance workers who handled everything from thundering avalanches to man-eating grizzly bears
• The mothers who carried their babies inside their snowmobile suits and prayed their machines would not fail on the long ride home
•The old-timers who forged communities despite the odds against them.
With insight, love, and humor, Yellowstone Has Teeth paints a never-before-seen portrait of an iconic American landscape and the people who live there.     $16.95
Yellowstone Memories
30 Years of Stories & Photos
by Michael H. Francis
Few people know Yellowstone National Park as well as nature photographer Michael H. Francis. For thirty years he has worked and played in Yellowstone, his favorite place on the planet. This book is a collection of some of his favorite stories and photos, from bears  and bison to weather and wildflowers. For anyone who loves Yellowstone, this is a memory book to treasure and enjoy.     $22.95          
You Can Be a Nature Detective
Author: Peggy Kochanoff
Why do a tree's leaves change color in autumn? How can mushrooms suddenly appear overnight? What made those tracks in the snow? You Can Be a Nature Detective helps you delve into these and other intriguing mysteries of the natural world. With the goal of getting kids outside and exploring, author Peggy Kochanoff uses breathtaking watercolors and informative text to spark readers' interest in investigating the wonders of Mother Nature.

Learn which moth or butterfly a caterpillar will turn into. Use clues left behind on the bark of trees to figure out what animal has been there. Study tiny holes in the ground to discover which creatures have been burrowing in the soil. Part field guide and part whodunit, You Can Be a Nature Detective has something for naturalists of all ages.     
$14.00